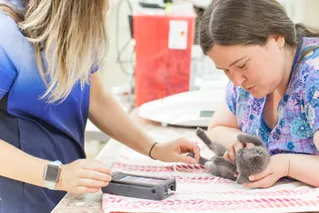 When your pet has an emergency we understand how alarming that is!

Established in 1975 as Peninsula Emergency Veterinary Clinic (PEVC), PARC emergency provides emergency critical care for pets Monday through Sunday 8am-10pm. The in-house laboratory, digital radiography, ultrasound, and red blood cell/plasma banks enable our emergency clinicians to get crucial diagnostic information and establish treatment plans very quickly. Because we are an emergency and specialty care facility, your pet will have access to board certified specialists without unnecessary delays.

Our team of Emergency Clinicians, Licensed Veterinary Technicians, and Critical Care trained Veterinary Assistants and Client Service Coordinators are on site Monday through Sunday 8am-10pm ensuring safety and comfort for your loved one. Once your pet is stabilized, they can be transferred to an overnight emergency facility or your primary care veterinarian for follow-up care. We value the human-animal bond and are dedicated to providing compassionate emergency care.


Our goal is to keep you informed of your pet's condition and to provide the best medical care. In addition, we will keep your primary care veterinarian informed of all medical and diagnostic results that your pet receives.
---
---
Dr.

Rachel Gunther

D.V.M.

Rachel Gunther received her Doctorate of Veterinary Medicine from the Virginia-Maryland College of Veterinary Medicine in 2018. She transitioned from general practice to emergency medicine in 2020 and continues to provide quality care for our critical patients. When she is not practicing medicine, you will likely find her with her Dutch shepherd, Grayson, or on the mats, drilling Brazilian jiu-jitsu.